Products
Over the years we have created variety of exciting lights for our customers.
The following is a sample of the most requested styles and colors.All our
lighting comes complete with hardware ready to install
to the drop length requested.

Please contact us for further information and inquiries to place an order.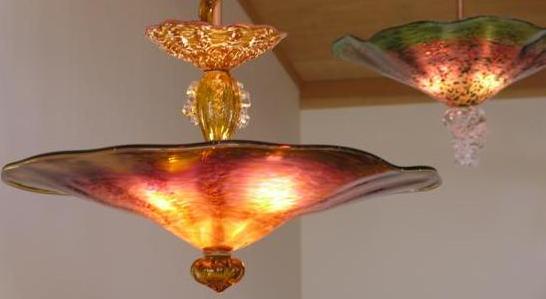 The chandelier is created with the beauty of the large plate ranging in size from 18" diameter to 28" diameter.Glass components are added to create a custom fixture. Components are comprised of small plates, beads, spirals and finials. Price varies depending on the size and the components added to the large plate.
Price: $1200 to $2800, ready to install with hardware.
---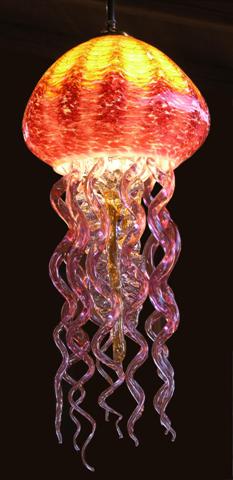 JELLY FISH CHANDELIER

The jellyfish chandeliers are created in a variety of size ranging from 8" diameter to 14" diameter and 18" length to 28" length.
Price: $1200 to $2500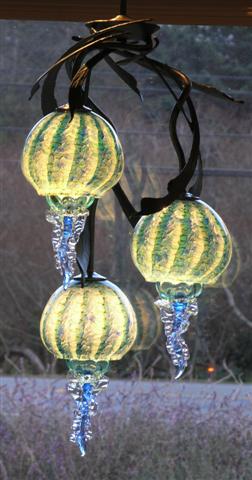 TRIPLE JELLY CHANDELIER
The three light jellyfish chandelier are created with hand-forged hardware fabricated by local blacksmith Toby Hickman. The triple chandelier is approximately* 18" in diameter by 33" in length.
Price: $3000 to $3500.
*Smaller and larger custom hand forged lights available

See More Pictures of Triple Jellies
SEE CRAFTSMAN CHANDELIER AND IRON PATTERN SELECTION
OF TOBY HICKMAN'S BLACKSMITHING FABRICATIONS:
click
IRONWORK
---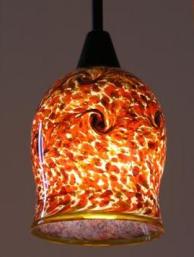 Simple pendants are available in a variety of shapes, colors, and sizes with choice of Bronze or nickel hardware.

Pendant Price: $300 to $500, ready to install with hardware




SCONCES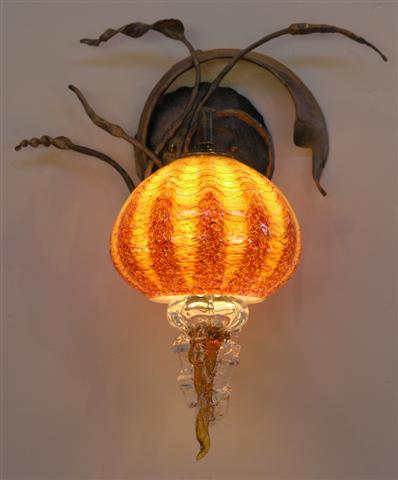 Sconces come in a variety of shapes, colors, and sizes. The Sconces are available flush-mount or mounted away from the wall with traditional hardware, or with the beauty of locally hand forged iron.
Sconce Price: $500 to $1250, ready to install with hardware
TABLE LAMPS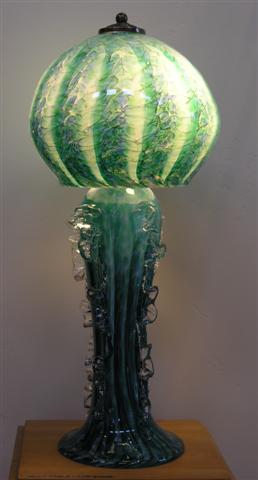 A new line of ocean inspired table lamps are available in a range of colors and sizes.
Table Lamp Price: $500 to $1500
---